The words 'heroine-oriented' and 'issue-based' to describe films are often used interchangeably in Bollywood. And both often mean box-office disaster. Sometimes, the heroine-orientation is the result of the director's fixation with a leading lady – resulting into footage disproportionate of talent (already described in some detail, here).
Sridevi broke this mould.
In several films of the late 1980s and early 1990s, she not only took on the mantle of being the Chief Crowd-Puller but converted many of them into one-woman shows as well. No better example of that than Mr India where all people remember are Mogambo and Miss Hawa Hawaii!
And Chaalbaaz is probably the best example of her stardom – in which she had two top heroes doing all the things they normally do very well but nobody remembers any of them.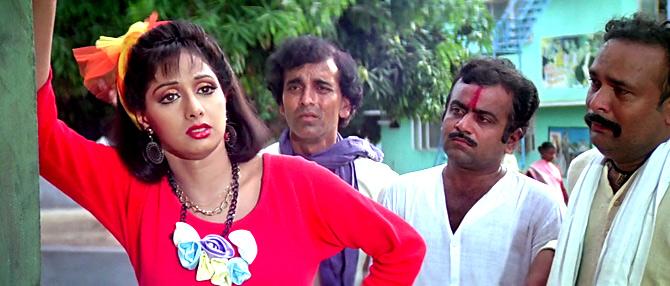 What did Chaalbaaz have? For starters, no originality.
It rehashed the ancient Bollywood formula of long-lost twins – one of whom grow up to be a wimp and the other a firecracker. Dilip Kumar did the male version in Ram aur Shyam. Subsequently, Hema Malini did the distaff version – Seeta aur Geeta. And while Anil Kapoor was dreamily going about Kishen Kanhaiya, Sridevi exploded Chaalbaaz. You have to see the film how original one can get within the strait-jacketed boundaries of the story. Every single set-piece was borrowed from Seeta aur Geeta and yet, each one of them had a fresh gag!
It also had a maverick director called Pankaj Parashar – who directed hit detective serials with evergreen sleuths (Karamchand), a completely crazy debut vehicle for Archana Puran Singh AND Cyrus Broacha (Jalwa), a medieval fantasy modeled on Robin Hood AND Dharam Veer (Rajkumar) and the funniest film no one watched (Peechha Karo). Before he degenerated into making existentialist crap like Banaras, Pankaj Parashar made seriously demented stuff.
And Chaalbaaz was made like he was on an acid trip!
I was quite surprised – and disappointed – that nobody mentioned Peechha Karo in Ravi Baswani's obituaries because he and Satish Shah nearly rivaled the Jaane Bhi Do Yaaron craziness in that film! Seriously – no kidding.
Chaalbaaz also had Rajinikanth.
Maybe, the believers would want me to say that Rajinikanth had Chaalbaaz but probably, this is the one film where the Goddess overshadowed the God. As Jaggu the alcoholic taxi-driver with a heart-of-gold (is there any other kind of heart in Bollywood?), he was the perfect foil to Sridevi's schizophrenic act. His drinking sessions with Sunny Deol, the mandatory fight sequence in his basti and even his Tamil-accented advice to Sridevi ("Jaldi se koi achha ladka dhoondke shaadi kar le. Nahin toh kisi kothe mein tabla bajana padega. Ya phir kisi baniye ka rakhail banke reh jayegi!") were all priceless.
There was the Trio of Villainy.
Anupam Kher as the evil Mamaji, Rohini Hattangadi as Mamaji's Moll and Shakti Kapoor as Mamaji's Moll-pani. Sorry, Malpani. Actually, Shakti Kapoor was Batuknath Lalanprasad Malpani (abbreviated as BaLMa)!
Shakti Kapoor always excelled at being lecherous slimes. Anupam Kher – by this time – could have sleepwalked through a role like this but managed to become a buck-toothed villain for some unknown reason. And Rohini Hattangadi went ballistic as Amba, who started off with being excessively made up by Sridevi and ended up being thrashed by her.
There was also the illogicality of the name, which is – now – an extinct Bollywood tradition.
Nowadays, a film set in a village which gets round-the-clock media coverage is called Peepli Live. A film about a fashionable Delhi girl is eponymously called Aisha. In the good old days, they would have been called Allah ke Bande and Gal Mitthi Mitthi Bol respectively. Because films have been named after a song (Yaadon ki Baaraat), a dialogue (Deewaar), an abstract concept somewhat relevant to the film (Insaaf ka Tarazu) or without any connection whatsoever (Chaalbaaz).
You could argue that Sridevi is the Chaalbaaz but why the film was not called Anju aur Manju, Patakha or something more flattering to her – nobody knows! And even better, nobody cares!!
And obviously, there was Sridevi.
From her super-nyaka assertion of being a teetotaler ("Main madira nahin peeti, ji") to the ballsy whipping of Anupam Kher, from the drug-induced twitches to the jhatkas of Na jaane kahan se aayi hain, from the sneering pouts to the slithering shyness – Sridevi was total paisa vasool. In fact, this is one of those movies where you want to tip the usher at the end because you feel almost guilty that so much enjoyment was had only for twenty-five rupees.
Quirkily enough, I was reminded of Chaalbaaz when I came across a tweet from @mojorojo – "

Dear North-South fighters. I suggest a deathmatch. Sunny Deol versus Rajnikanth. Whoever wins, we lose." And I wondered – actually, Sridevi won.
UPDATED TO ADD: A YouTube link with a medley of scenes with both the Sridevis and Rajinikanth. And another one! Enssoi.